Oh, there are few things in life as exciting as choosing your wedding dress. There is something so deliciously girly and fun about it. We have entire shows dedicated to the romance of finding the perfect gown. There are so many different styles and looks to choose from, all in roughly the same color. So where do you even begin? Here are some of my picks and favorite options. [Disclaimer: I did not shoot these photos. If you would like to find out the amazing photographers and blogs that posted these beautiful images, you can find them here on my 'Dresses that will make you swoon' Pinterest board.]
 1. Simple & Sweet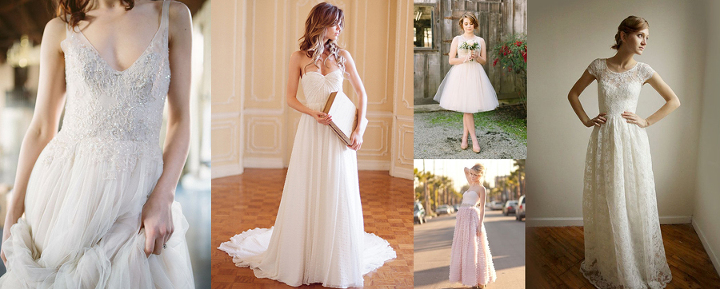 Two weeks ago I talked a lot about keeping it simple with your wedding bouquet. I think the same concept applies with dresses. Simple does not mean boring by any means. There are a million ways to make a basic wedding dress into a major wow and show your personality at the same time. Adding a belt/sash or statement jewelry may be the key. Your shoes or flowers may be where you want to add drama. You may not want or need to add a thing! When you keep it simple, you keep the attention on you and your love, the whole reason for the day.
2. Delicate Detail

I LOVE these types of dresses. There is something so feminine and gorgeous about the hand stitched, beaded, or lace and pearls on a beautifully designed gown. It just looks elegant, like it was made for royalty. They say 'The proof is in the details'. Well, fashion is art and this a way prove you've got major class.
3. Drama
Now these are the dresses that will make your jaw drop. You cannot speak when you see these gorgeous pieces of art. If you really want to get a major 'wow factor' you'll have to take some risks. Drama in your dress doesn't necessarily mean that it's big. It can mean taking a risk with texture, detail, pattern or even color. If you're the type of girl who likes to make a statement, this option may be for you.
There you have it, three ideas to consider when choosing which dress is right for you. If you want more inspiration you can go to my Pinterest page and check out all things wedding. So much pretty! Which dress is your style and why? Leave a comment and tell us about your favorite.
–  Leah