Yeah, that's right. I'm one of those people. I still get tears in my eyes at almost every wedding I shoot and books, tv, and movies can and will move me to tears. What can I say? I'm a romantic and I fully invest in the characters that I love. But Leah, you say, these characters aren't real. They are actors, reading a script and playing a part. No reason to cry. To which I say, NONSENSE! They are real. Here's my list of fake weddings that had me reaching for the kleenex.
1. Maggie & Ike-Runaway Bride
This movie was one of the great 90's chick flicks. It had it all. A glimpse of both big city and small town life, great jokes, and most importantly, Julia Roberts and Richard Gere together. I can't even talk about it, you guys. Today's chick flick couples cannot hold a candle to these two. I'm pretty sure Meg Ryan and Tom Hanks were the only true contenders they ever had. Needless to say this beautiful moment made me cry like the emotional baby I am. I was so bummed not to be able to find a working clip of their actual gorgeous fall ceremony, so I'll just leave you with the trailer.
2. Julia & Robbie-The Wedding Singer
Okay, so Drew and Adam are the next generation Meg and Tom or Richard and Julia. This movie is so hilarious. You're so sad to see Adam Sandler's character, Robbie, fall apart when he gets left at the alter by his first horrible girlfriend, Linda. He captures the pain and agony of heartbreak in such an amazing and cringe-worthy way. So when he meets Julia we all sigh with relief. And the 80's-ness of it all!! It's amazing. Of course, everyone remembers the song that sounds more like vows that he sings to her on the plane. Tears all around leading into their wedding day. Only a little bit of tackiness in their 1980's wedding day. This one passes the test.
3. Annie & Bryan-Father of the Bride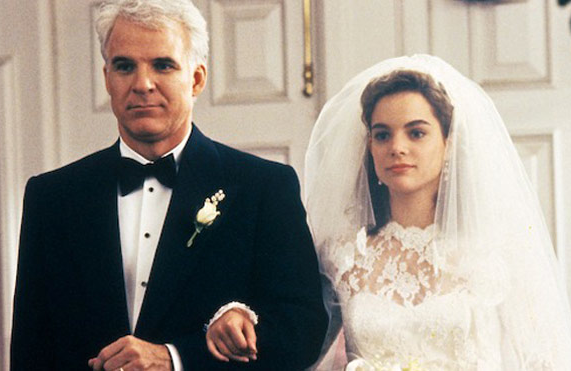 This one's really about the father daughter moment, and not so much the couple getting hitched. I loved so much about this movie. We hardly ever see this point of view in movies. It's always about the people in love. Well, spoiler alert to the next generation, the relationship between you and your spouse is not the only relationship in your life. I loved the beautiful connection between Annie and George and his struggle with letting her go. They don't make them like this anymore folks. Grab a tissue and watch a clip of Steve Martin's character giving his daughter away.
4. Cory & Topanga-Boy Meets World

If you know me at all you know that I am borderline obsessed with the 90's TGIF favorite, Boy Meets World. Our generation grew up with these characters. I fully embraced it, cheesiness and all. I am all about it. There were a lot of silly moments in this show that I will absolutely still laugh at. But basically every episode in this series, even the early ones, had me tearing up, sometimes even full out sobbing in 30 minutes. It doesn't get much better than that. And Cory and Topanga? They were everything!!! If you were ever a Boy Meets World fan, I dare you not to feel something during this next clip.
5. Romeo & Juliet-Romeo & Juliet

I think this movie is either hit or miss for most people. I had a major crush on Leonardo Dicaprio growing up, so it was obviously a hit to 11 year old me. Love it or hate it, the cinematography in this movie was really beautiful. The music was also ridiculously on point. Their wedding ceremony is so incredibly simple, sweet, and heartfelt. Sadly, I could not find the clip, but you can see snippets of it in the trailer, along with the gorgeous scenes and Leo eye candy.
6. Kimmy & Michael-My Best Friends Wedding 

Let's be honest, it's all about Jules aka Julia Roberts (yes she made the list twice) and Michael and how she stepped aside when she realized that she needed to stop trying to sabotage his wedding to Kimmy. It's not exactly how we wanted it to end. But I liked the ending. It's realistic. When she says goodbye to him as they exit their wedding she really is saying goodbye to any possibility they may have had. It definitely brought tears to my eyes. And that final scene? It's sad but filled with hope. It's perfect.
So that's my little list. If these movies made you cry too please share this. In the comments below, tell me about the fake weddings that made you cry.
–  Leah